Depending on your situation, we or one of our partner organizations can get you the help you need. Please don't hesitate to reach out to our friendly and caring staff.
Families with Minor Children
If you are a family with minor children, please contact LA Family Housing directly for services. They can be reached for services at (818) 255-2766 or referrals@lafh.org. Ascencia works in partnership with LA Family Housing, as they are the lead agency in serving homeless families in San Fernando Valley Service Planning Area 2 and we work with families based on referral.
Individuals
Are you homeless in the Glendale, Northeast Los Angeles, East Hollywood, or West Hollywood area?
Need employment assistance?
Mental health services?
Substance abuse recovery support?
Are you in imminent danger of becoming homeless within the next two weeks?
Are you a U.S. Veteran who is homeless OR in danger of becoming homeless OR in need of assistance obtaining your benefits?
If you answered "yes" to any of the above and are 18+ years and older, please call our Access Center at (818) 246-7900 to speak with our Intake Case Manager. We will discuss eligibility for our programs and help you determine next steps, following an intake interview.
Domestic Violence Help
If you or someone you know is experiencing Domestic Violence, please contact the YWCA of Glendale at (888) 999-7511.
To schedule an appointment, please call or email us at
(818) 246-7900
info@ascenciaca.org
"Ascencia works real miracles. You have transformed the darkest time in our life to a new beginning and a story of grace and compassion."
The first step to accessing our services is to complete an in-person intake interview. Intakes are done Monday-Thursday on a first come first serve basis, starting at 7am.
Walk-ins are encouraged to arrive as close to 7am as possible. In efforts to give each client our utmost attention, we conduct an average of 2-4 intake interviews per day.
If you plan on completing an intake with our staff, please bring the following items with you:
Birth Certificates and Social Security Cards for all members in the household

Personal Identification card or Driver's License, if available

Recent and Current Employment and Income Statements, if available.
If you or someone you know cannot make it to our Access Center or need us to come to you, please call (818) 246-7900 and our teams will be dispatched to the area.
Our outreach teams provide services directly or through collaboration with other community agencies.  Street outreach services include the following: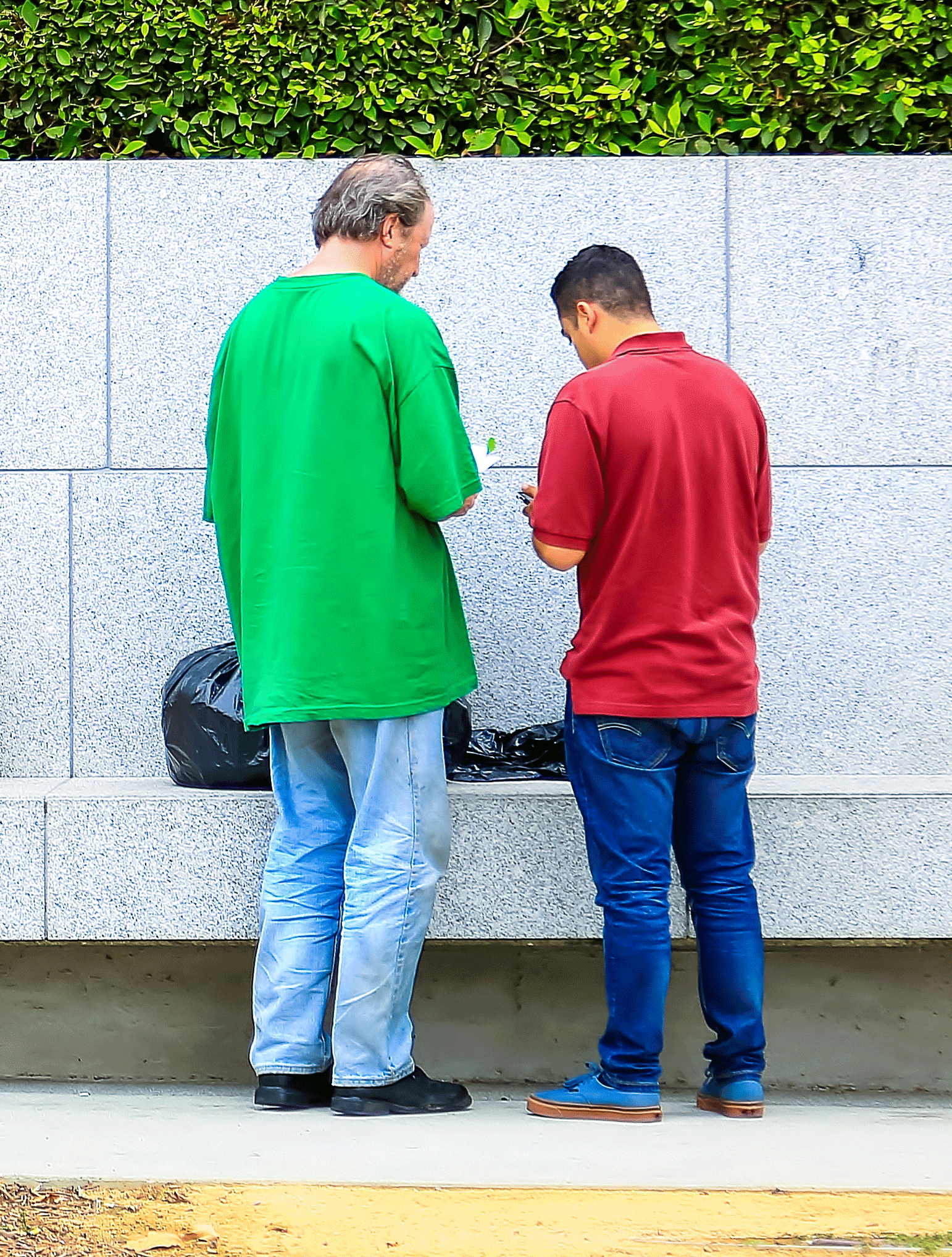 Emergency Housing
Ascencia provides a range of housing solutions for individuals and families.
Year Round Housing
45-beds are located onsite and are eligible to homeless individuals for up to 60 days and families with children up to 120 days.
To be considered for a bed in our shelter, clients must be:
Actively working with a case manager in our Access Center
Commit to saving and/or working to increase income
Passed a TB test within 6 months of entrance
Adhere to the client agreement signed during the intake process.  
If there are no beds available, you will be added to the waitlist and contacted when a bed becomes available. Priority is given to Glendale residents.
Winter Shelter
Stay tuned for our Winter Shelter Program.
This program runs between the months of December – March. During this time, within this program, homeless adults can walk in off the streets and receive a clean bed, a hot shower, and warm meals within a safe environment.
"My Case Manager treats me like a human being and not like a homeless person."
The Access Center provides services to 1,200 unduplicated homeless clients each year, working to move clients from having no regular nighttime residence to residing in a stable and safe housing, through connecting them to the resources they need to end their experience of homelessness.
Programs and Services
Financial Literacy Courses
Wednesdays 9am – 11am
Trauma-Informed Therapy
Wednesdays, starting at 4pm
Art-Therapy for Kids
Tele-Psychiatry
1st and 3rd Thursdays, 8:30am – 12:30pm
Laundry and Shower Services
Monday – Friday, by appointment
Continuum of Care (CoC) Program
In partnership with the City of Glendale, 47 clients/households whom were formerly chronically homeless, receive case management support through Ascencia. Harm reduction approaches are used to engage clients in this program, removing the requirement for clients to be sober when entering the program.
Housing Now
This 14-unit program is designed to serve adults who are chronically homeless through permanent housing and supportive services in efforts to assist clients towards self-sufficiency. Case management services include rental subsidy, housing search and placement, therapy, and linkages to social services including educational and employment programs.
Next Step
This 8-unit program is designed to serves formerly chronically homeless adults who have completed an addiction recovery program. Following housing placement, clients receive case management services to assist them with maintaining housing through support recovery, including access to a 12-step based program.
Burbank H.E.L.P. PSH Program
This 20-unit program is designed to provide housing and case management services to 15 individuals and 5 families whom are chronically homeless using a harm reduction approach. Through a partnership with the City of Burbank, housing subsidy is provide through the Burbank Housing Authority with supportive services provided by Ascencia. Case management efforts focus on development of financial management plans, securing and maintaining benefits or employment income, and maintain housing.
Gardena Apartments
Ascencia owns and operates a 9-unit Multi-Family Apartment Complex just steps away from our Access Center. These 9 units currently house adults and families that meet the criteria of being: (1) chronically-homeless and (2) receive very-low incomes. 
Integrated Healthy Homes
In partnership with local hospitals, to identify high cost, chronically homeless frequent hospital users and move them to permanent housing, reducing costs for hospitals and first-responders. We provide wrap-around services to help establish a medical home and connections to other needed resources.
Scattered Site
This 12-unit program is designed to provide housing and case management services to 8 individuals and 4 families whom are chronically homeless using a harm reduction approach. Case management efforts focus on development of financial management plans, securing and maintaining benefits or employment income, and maintain housing.
Virtual Tour
See the inside of our Access Center and learn about what we do there.