Los Angeles has one of the highest rates of homelessness in the country, with over 75,000 individuals experiencing homelessness on any given night. Roughly 14,000 of those include people of all ages are who are living in cars, vans, and RVs. The good news is that Ascencia has been making a significant difference in the lives of those facing homelessness in the communities we serve for over 17 years.
However, As we approach the end of the year, Ascencia still faces a significant funding gap that threatens to undermine our efforts. We are running low on funding for our Mental Health, Wellness, and Client Services. These programs are essential for our clients to help them break down barriers to housing and reintegrate into society.
Please contribute to our Holiday Giving Campaign and help us continue to fund these crucial programs! We need to raise $75,000 to meet the increasing demands that manifest during the winter months. We hope you will consider donating to help us continue our work and make a difference in the lives of the most vulnerable during this time of year. All donations will go towards Ascencia's mental health programs including psychiatry, trauma therapy, children's art therapy, as well as essential client services like fees and move-in costs.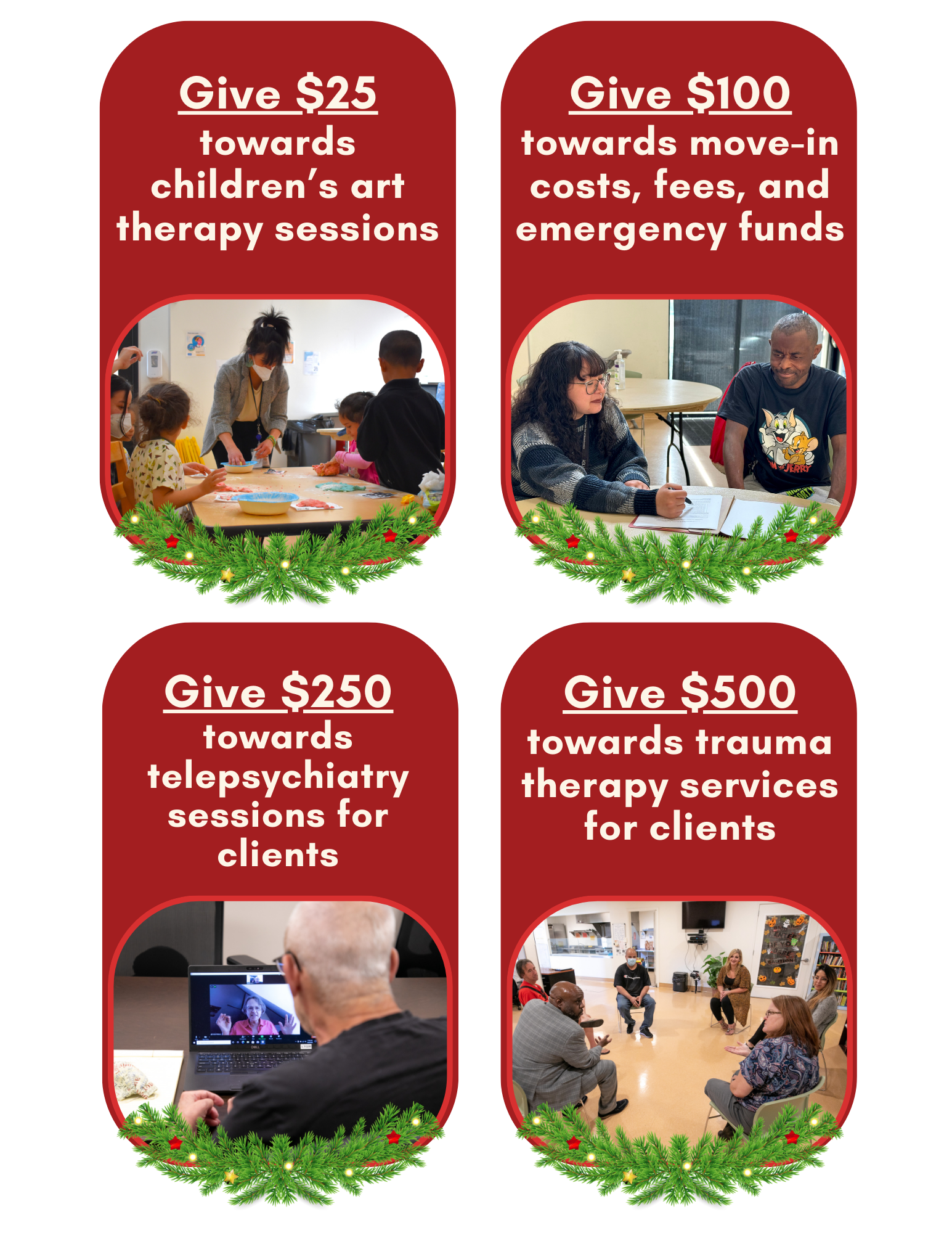 In-kind donations are any non-monetary donations including goods like food, clothing, computers, services, or use of facilities or equipment at no cost. If you're looking for a way to give back to your community, in-kind donations are impactful, tangible, and immediate.
Our clients come through our doors often with nothing but the clothes on their back. We like to keep basic clothing, hygiene items, and non-perishable food on hand at all times for our shelter clients. Even after our clients get housed, they are often walking into an empty apartment, with no bed, couch, appliances, or even toilet paper. We want to ensure that our housed clients stay housed. We are proud of our 98% housing retention rate. Your donations make a difference by helping our clients feel at home.
All In Kind Donations that are not sent from Amazon must be pre-approved and dropped off by appointment only. Please fill out our In Kind Donation Request Form if you wish to donate an in-kind gift and a staff member will contact you. You can also email info@ascenciaca.org with information and photos of what you want to donate and we will get back to you ASAP. Unfortunately, we are not able to do pick ups. All donations must be dropped off at Ascencia.
At this time we are currently in need of:
Food
Non-Perishable canned goods and foods (Please check to make sure items are not expired)
Perishable grocery deliveries or grocery drop-off (call beforehand).
If you're interested in becoming a Guest Chef or looking to donate warm meals or brown bag lunches, please visit our volunteer page.
Clothing
New Clothing (All Genders)

Warm winter clothing (thermals, jackets, sweats, winter coats)

Work and interview clothing (dress shirts and pants)

New Bras and Underwear (HIGH PRIORITY – All Genders, all sizes, L/XL are most requested) 
Furniture
Toddler Bed
New Crib
Bed frames (Full, and Queen)
New Mattresses (Full, and Queen)
New Bed Sheets (Full, and Queen)
If you're available to assist with furniture assembly and maintenance, please email: volunteer@ascenciaca.org
Miscellaneous
Hygiene Kits
Toilet Paper
Paper Towels
Hairbrushes
Deodorant
Chapstick

Certain Electronics/Appliances
Please note: We only accept new clothing, shoes, bedding, towels, mattresses, and childrens items.

Please visit our Volunteer Page for more information on Donation Drives, Corporate Team-Building, and more!
 Ascencia has Amazon Wish Lists that feature items that our shelter clients and housed clients are requesting. By ordering off our Amazon wishlists, you can see exactly what we need in real time, and send your donations straight to our access center with ease. We will ensure these items get in the right hands as soon as they are delivered. This is by far the easiest way to donate the items we need the most, and it makes a tangible difference by putting items directly in the hands of our clients! Just email donate@ascenciaca.org with details of your order. Thank you.
Move-In Donations
Imagine moving into your new home after being homeless, and having absolutely nothing to unpack — No bed to sleep on, no cups to drink water, and no silverware to eat with. Finding housing is hard enough, but homeless individuals who become housed often have a difficult time acquiring furniture, appliances, and household essentials.
Our Move-In Program allows our Ascencia supporters to kick off our clients' fresh start by providing them with new household essentials from their Amazon Wishlist.
Sign up for our email newsletter to be alerted when our newly housed clients need your help. You'll also be the first to hear about our clients' success stories!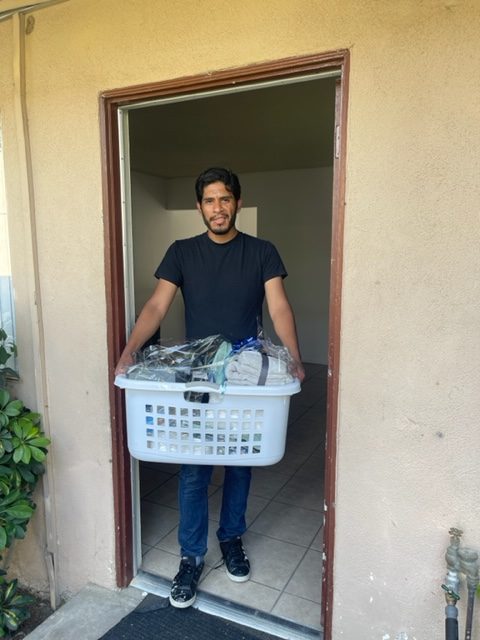 Support our 16th Annual Gala:
Opening Doors to Change!
Ascencia largest fundraiser of the year is coming up, and we'd love your support to make this event our most successful ever! Join us in celebrating our work and raising awareness among our community leaders and friends.
If you can't attend, make a difference by donating towards our Gala! Either way, we are so appreciative of your support. 
Sponsorship Packages & Tickets